Tuesday, April 8, 2008, 04:19 PM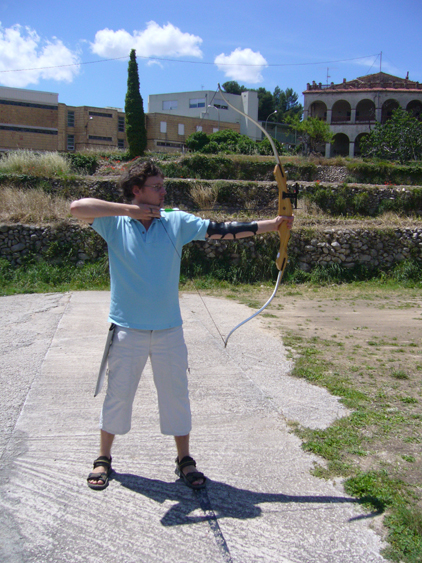 Když jsme my erasmáci poslouchali o možnostech sportovního vyžití v El Prdelákově, uslyšel jsem "lukostřelba". Nastalo velké jásání a odhodlání se to zkusit, protože na FELu jsem tuhle možnost neměl a už několik let doma suším kladkový luk z USA, který neumím ovládat.
Po peripetiích s hledáním místa, kde se sport bude konat se mi nakonec podařilo se na kurzík dostat a poznat učitelku Luisu - moc příjemnou a milou dámu v letech a perfektní instruktorku mluvící samozřejmě pouze Valenciáno (něco jako španělština smíchaná s fráninou).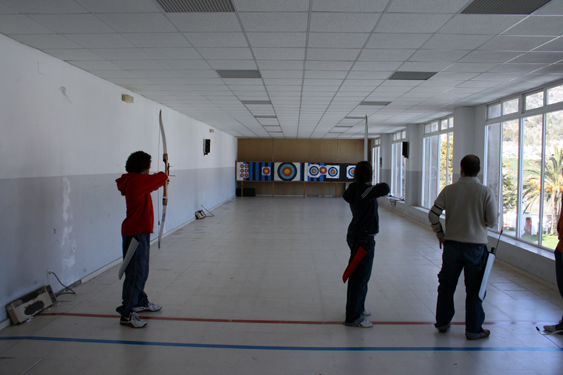 Protože nebylo zrovna horko, první hodiny probíhaly v místní hale, kde se střílí na 25 metrů. Střílí se vždy od 12ti do 13-30, takže hoďku a půl. Hned po příchodu jsem dostal svůj luk, šípy, chránič na ruku, ochranu na prsty, toulec, tříminutové školení a hurá na věc. Můj první luk byl cvičný nekladkový 28librák pro praváka, bez stabilizátoru. Šípy pro nás ňoumy jsou karbonové u mě vzhledem k výšce spíše delší, s klasickými hroty. Většinou nafasuje každý 3-4 šípy a vždy když všichni vystřelí, hromadně je jdeme vytáhnout.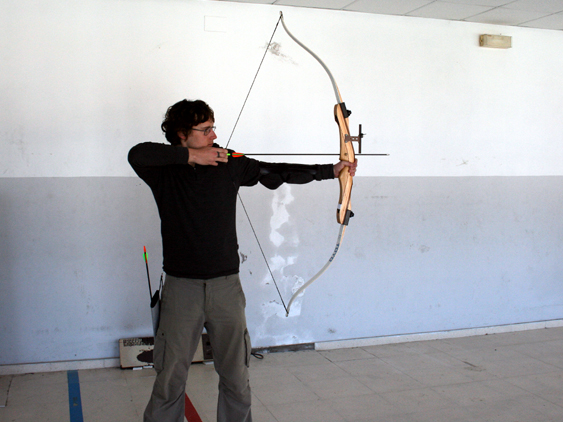 Páni - neřekli byste, že to vůbec není tak jednoduché, jak to na první pohled vypadá. U prvních šípů jsem byl vůbec rád, když jsem se trefil do Diany (tak zde říkají terči) a většina zásahů byla mimo. Střílet mimo znamená často zničení šípu, protože ten není konstruovaný na střelbu do tvrdého materiálů jako dřevo.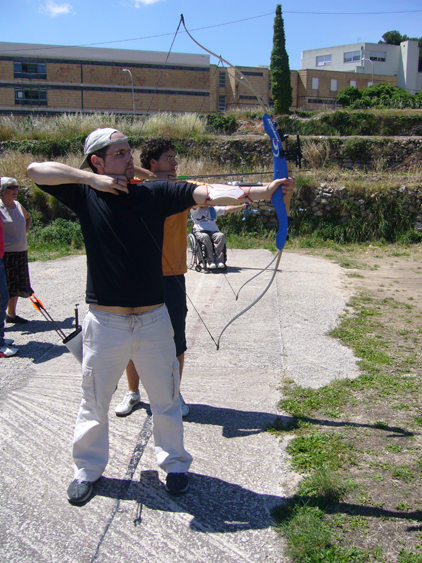 Lukostřelba neznamená jen natáhnout tětivu a následně ji pustit. Je důležitý postoj, pevnost postavy, správné držení, načasování, trpělivost.. Pěkné české čtení o lukostřelbě
. Po několika hodinách jsem se už naučil lukostřeleckou terminologii ve špánině a výuka se přesunula ven, kde se také mírně zvětšila vzdálenost. Střílet zpoza ořešáku za parného dne s výhledem do hor je paráda.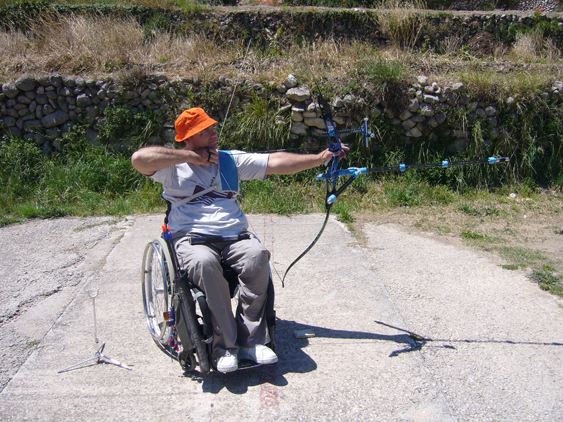 Čekal jsem, že o sport bude velký zájem, jakože v ČR by asi byl, ale tady jsem ve Španělsku a španělé mají nejradši sport v televizi, nebo alespoň většina z nich a tak maximálně se nás sešlo tak 5-6. (Abych jim nekřivdil, tak 9 z 10ti kluků umí hrát dobře fotbal, to se musí nechat.) Kromě studentů s námi často trénoval Manolo - paralympijský reprezentant s profi lukem, který je v první desítce ve světovém pořadí. Ten střílí duraláky na 70 metrů a je nezvyk vidět jeho terč, který má díry max 20 cm od středu a není pokropený náhodnými zásahy jako ten můj.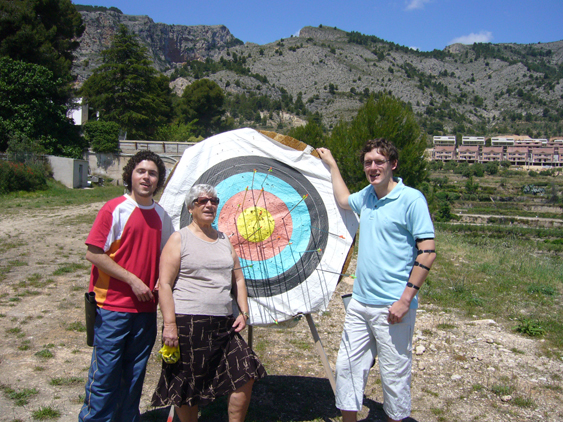 Jednou se mi dokonce podařilo trefit všechny do žluté - to bylo radosti na starém bělidle. Na konci kurzu už zvládám jakž takž techniku a šípy nelítají mimo. Že bych dával samé středy, o tom si můžu nechat zdát. Tento sport mě nadchnul a jsem pevně rozhodnut v něm pokračovat. (Doufám, že zlákám i Haničku :-))