Sunday, March 30, 2008, 02:57 PM
Na jaře roku 2008 dostala Markéta Irglová s jakýmsi Glenem oskara za film Once. Na to, jak mě ten film nezaujal je hodnocen kritiky velmi dobře, na CSFD dostává 80% a to je celkem hodně. Hudba se mi celkem líbila, ale naměkko jsem nebyl, jako většina ostatních, které film nadchnul.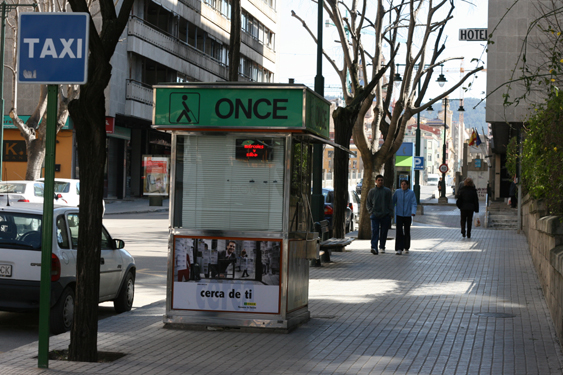 Po příjezdu na Ibérii jsem byl docela překvapen, když jsem uviděl reklamu na tento film na každém rohu a dal bych ruku do ohně za to, že by to překvapilo i vás. Budek s reklamou jako je na fotografii najdete jen v El Prdelákově desítky. Po bližším zkoumání hned příjdete na to, že budka není reklama na film, ale na místní gambling. Snad denně si zde totiž průměrný španěl kupuje stírací los nebo tip na čísla v naději, že něco vyhraje. Neděje se tak jen v budkách, ale i u mnoha stojících prodavačů s losy přišpendlenými na svém oblečení. Kde není budka, je aspoň prodejce s losy (často jde o hendikepovaného člověka), nebo dokonce i s ručním online terminálem. Ano - špěnělé milují sázení a hazard. Sází každý a sází rád. Dlouho jsem si myslel, že budky "jednou" jsou synonymem české Sazky, ale po bližším zkoumání na itnernetu jsem byl vyveden z omylu. Celé to má ještě trochu jiný aspekt.
Cituji co je ONCE: "ONCE is a non-profit corporate organisation that focuses its activities on the improvement of the quality of life of people with blindness or severe visual impairment from all over Spain.." Neboli se domnívám, že španěláci spojili příjemné s užitečným. Nákupem losíku něco utrží i zmíněná organizace a hráčská duše je uklidněna nejen radostí z možné výhry, ale i z toho, že pomohla někomu potřebnému. Jedná se trochu o obdobu prodeje časopisu Nový prostor v České republice. Zajímavý nápad, že!