Saturday, March 15, 2008, 11:54 PM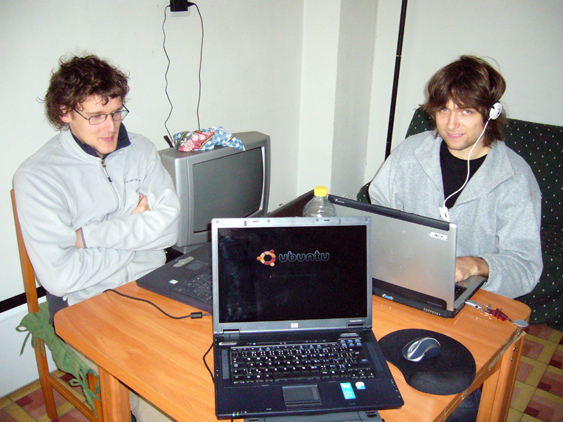 Do El Prdelákova jsme přijeli 10. února a zaskočila nás věc poněkud nečekaná - místní teploty, i když ne ty venkovní. První setkání s Ibérií bylo velmi příjemné - V Barcelóně jsme vystoupili do příjemných 15 stupňů Celsia a vše vypadalo idylicky, pěkně po Španělsku (v Praze bylo tou dobou asi +5 C). I po příjezdu do Alcoy bylo venku přes den podobně.
Problém nastal až v momentě, když jsme večer v našem novém bytečku nastartovali internet a asi hodinku seděli a surfovali. Už trochu zvláštní je to, když se vám při projíždění oblíbených stránek kouří od pusy, což znamená že je v mísstnosti maximálně kolem 15 stupňů. Po chvíli Vám začnou nepříjemně křehnout prsty a pohyb po touchpadu se stává dosti obtížným. Váš pohled těká z LCD notebooku na elektrický přímotop. Tušíte, že když přímotop zapnete, nedoplatíte se - jednak jsou místní ceny elektřiny asi vyšší než u nás a pak izolace a těsnost oken jsou pojmy, které se v souvislosti v naším bytem nikdy nepadly. Navlékáte šálu, čepici, pokud nějakou máte a pohled na vás asi vypadá trochu komicky.
Od jiných erasmáků jsme se po měsíci dozvěděli, že naše obavy z drahého topení nebyly zbytečné. Celý měsíc si všude v bytě přitápěly elektrikou => výsledná cena 250 euro za měsíční topení. Když to porovnám s Prahou, kde topení a vaření plynem výjde celoročně v bytě 3+1 asi na tisícovkou měsíčně, je to pálka.
A jak to teda řešíme? No, samozřejmě až na vyjímečné situace (třeba když spolubydlícího Ondru začlo bolet v krku) téměř netopíme a já v noci, kdy teplota klesá i pod 10 celsiů, oceňuju spacáček :-) Už mi ani nevadí v něm spát, přestože jsem příznivcem prodloužené peřiny. Do školy, která je klimatizovaná, nás tím pádem ani nikdo nenutí chodit, jdeme tam rádi i sami - za teplem. Podle všeho by pára od pusy měla jít max. do konce února, pak zde bude příjemně, pak snesitelně a pak taková horka, kdy už ani nejde spát. Alcoy je v tomto prý trochu vyjímečný. Prý protože je obklopený horami, které sálají i po setmění. Uvidím - už se na to těším :-)