Saturday, February 23, 2008, 07:33 PM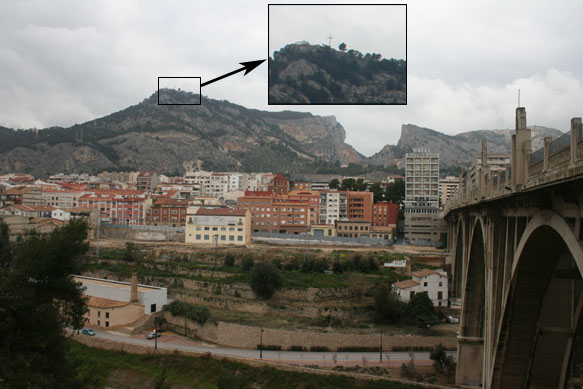 Když se touláte Alcoyem, je zde něco, co vás na každém kroku sleduje. Nejsou to zraky ostatních alcoyanos (i když asi trochu taky), ale něco mnohem vzdálenějšího. Celá vesnice Alcoy (asi 80.000 lidí v r. 2008), je totiž obklopena monumentálními horami a z té nejvyšší na vás zírá nepřehlédnutelný kříž (podobně jako v Riu :-)) společně s jakýmsi stavením. Kříže si všimnete prakticky při kterékoliv procházce městem, protože je zkrátka nepřehlédnutelný.

Kdykoliv někam jdete, do mysli se vám vkrádá myšlenka na to, co asi je nahoře za budovu, jaký výhled to místo skýtá, jak je náročné se tam dostat..
Po téměř 10 dnech pobytu jsem byl už mírně zpruzený tím městským životem a zase mi začala být u počítače zima (o tom někdy příště). Rozhodl jsem se vyrazit na procházku a naštěstí jsem nezapomněl foťák. Na ulici se totiž ukázalo, že vysvitlo slunko a hory okolo se odhalily z mlhy. To už jsem věděl, že právě v ten den je čas vyrazit nahoru, přestože už bylo půl šesté večer.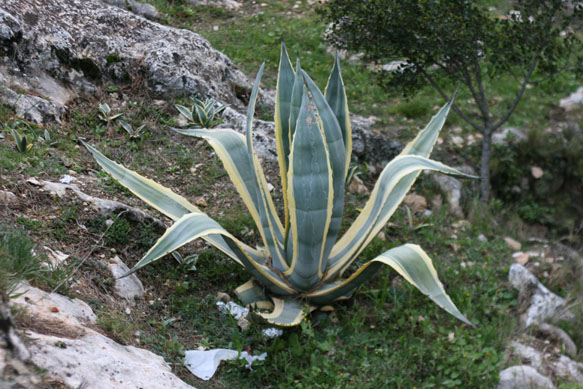 Azimutem jsem se vymanil z rušných ulic plných aut a dostal jsem se mezi přepychové bytovky, které s kovovými neprůhlednými ploty a nápisy o ochrance budily trochu respekt a zároveň působily vůči Alcoyi trochu nemístně. Neohroženě jsem si to namířil bývalým olivovým hájem směrem k hoře. Už po pár minutách mě čekalo nemilé překvapení v podobě dvou psů, kteří se znenadání objevili a vypadali docela divoce. Poučen z Bulharska jsem začal sbírat šutry, což kupodivu zabralo a navíc se za chvíli objevil majitel, který asi jen venčil. Na konci olivového háje, který se svými terasami podobá některé moravské vinici jsem začal dumat, kudy nahoru abych si přitom zlomil co nejméně kostí, protože některé části kopce byly nepříjemně strmé navíc s hrozícími kameny. Když už jsem měl připravenou docela odvážnou variantu zdolání ze východní strany, překvapila mě dřevěná tabulka s nápisem a patrná cesta kamsi mým směrem.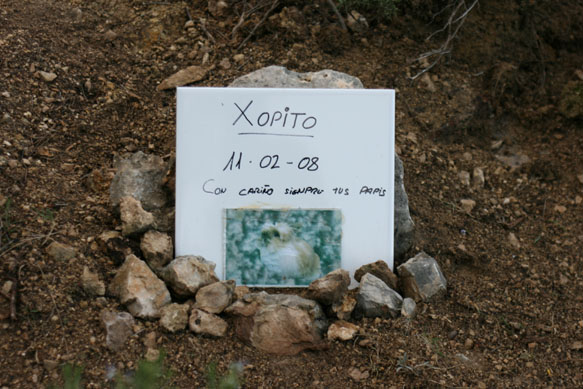 Pak už vše šlo jako po másle. Minul jsem několik vyhlídek - mimochodem docela udržovaných a dokonce zajištěných zábradlím a v polovině cesty nahoru mě čekalo překvapení v podobě psího hřbitova. Zde asi místní akčnější pejskaři pohřbívají své čtvernožce, aby to měli pěkně s vyhlídkou. Místo to bylo vybrané ideálně a dokonce nechyběl ani jeden mramorový náhrobek.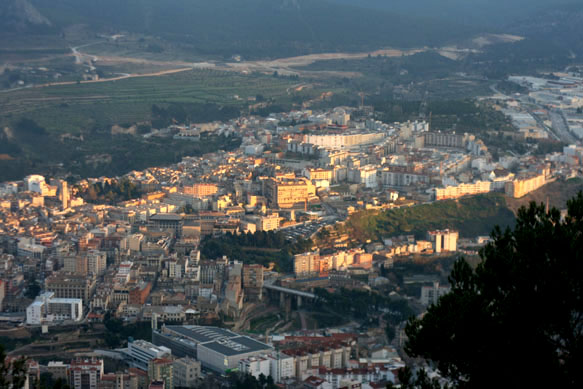 Další cesta mi trochu připomínala chorvatský Velebit. Vzduch byl nasycen rozmanitými vůněmi zdejších bylin a borovic. Ve 14 stupních se šlo perfektně. Asi 50 výškových metrů pod vrcholem zakroužili asi 3 metry nademnou nějací dravci - zvláštní pohled - asi aby si skoukli budoucí mršinu. Překvapila mě místní turistická značka umístěná na 1 m vysokém nerezovém 5 mm tlustém plechu. Myslím že by stačila barva na šutru, ale čerpat ze strukturálních fondů je taky potřeba.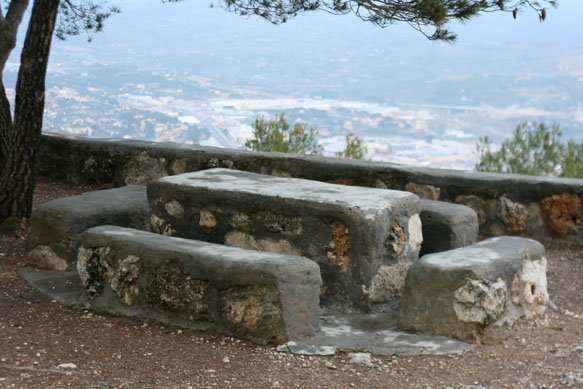 Téměř pod vrcholem čeká na poutníka vybetonovaný stůl s lavicí ve stínu borovic a začíná být jasné, že stavení nahoře je kaplička. Výhledy stojí za to, ale na sřechy Alcoyských domů už se v tuhle pokročilou hodinu skrz hory slunce neporobojuje. V kapličce dokonce hoří svíčka, a celé místo působí trochu mysticky. Na papíru je napsaný nějaký vzkaz, asi přání, které by se mělo splnit. Zezpodu na vás doléhá rachot Alcoye a zároveň vnímáte klid parku na severní straně za křížem.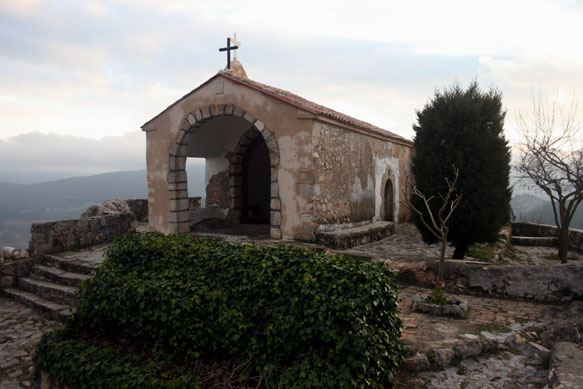 Celé místo dokreslují obrovské agáve a pár zcela jistě udržovaných keřů. Už chybí jen poustevník žijící v jedné z místností zapuštěných do skály.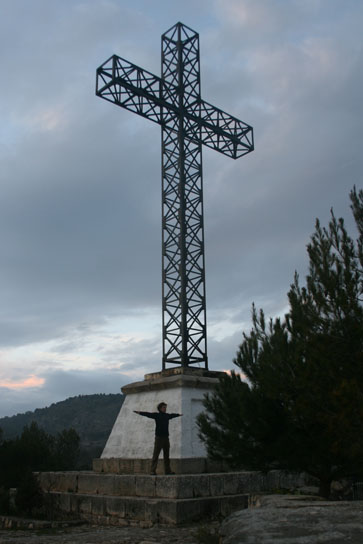 Nadšeně fotím a hraju si se samospouští. Je mi trochu líto, že už se začíná stmívat, protože dřevěná cedulka s nápisem "Buirtera 40 minut" mířící do opuštěné krajiny je lákavá. Večer ale chystáme v našem bytě wine párty a Alcoy už rozsvěcí své ulice, tak je čas návratu.
Řekl bych, že kříž s kapličkou zasvěcenou svatému Cristofólovi je v Alcoyi něco jako český Říp - prostě se tam musíte vydat a rádi se sem někdy vrátíte.Výstup tam trvá z centra asi tři čtvrtě hodinky a na konci rozhodně nečeká zklamání. Já se tam vydám určitě ještě několikrát.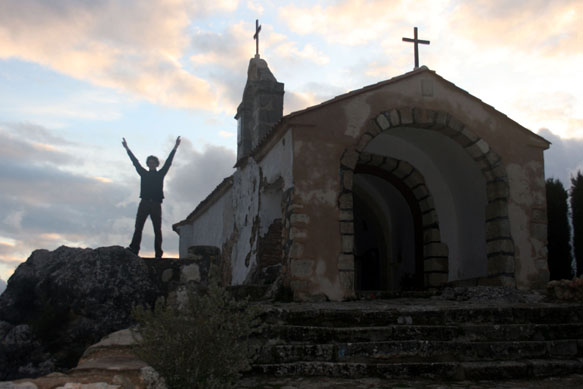 P.S. Fího - jsem to pojal tentokrát nějak literárně, asi jsem měl být spisovatelem :-)