Monday, February 11, 2008, 07:30 PM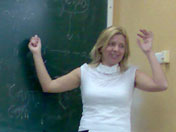 Historicky první článeček na tomto blogu má co dočinění s překážkami, které čekají na člověka po příjezdu do cizí země. Nemyslím tím zvýšené obrubníky, ale bariéry mnohem větší a náročnější - ty jazykové.
Po příjezdu do El Prdelákova neumím téměř žbleptnout španělsky. Sice jsem měl s Espinozou semestr na felu, ale to už je nějaký ten pátek a vše se spokojeně vypařilo.
Kdo to nezažil, těžko si to dokáže představit. Faktem ale zůstává, že 9 z 10ti španělů starších 25 let, které tu potkávám, neumí anglicky ani pozdravit, nebo se tak aspoň tváří. Typický rozhovor pak vypadá asi takhle:
(jdu se zapsat na sport - lukostřelbu ve škole)
Já:
"Holla... Habla espaňol?" (mluvíte španělsky?)
Ona:
"No no no!!"
Já:
"Ehm.. hmmm.. Yo want, quero, escribir corso.." (poloviční španělština s angličtinou)
Ona:
"Que???" (Co?)
Já:
.. rezignace na španělštinu.. "I would like to attend lessons of archery, as you mentioned on your presentation."
Ona:
"jfalůjds querres flaj sfsajd si fůaksjd fasů dfj" (asi takhle mi to zní)
Já:
..ukazuju obrázek lukostřelce..
Ona:
"Ah! Tiro del arco! Si, si, muy biene." (pochopila!)
.. a tímhle stylem konverzace pokračuje cca dalších pět minut, a nakonec se dohodnem..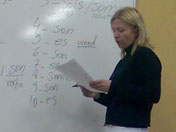 Ujišťuju vás, že člověk se po jediné takové lekci cítí jako totální idiot. A takových lekcí člověka čeká, hlavně v začátku, hned několik denně.
Docela pozitivní je, že po týdnu intenzivního kurzu španělštiny (4 hodiny denně se španělkou, která moc nemluví anglicky - viz. na fotkách) už začínám rozumět. Vyžvejknout se zatím moc nedokážu, ale je to pokrok.